Tomorrow's Parties DVD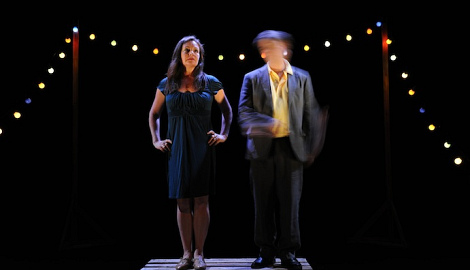 On a makeshift fairground stage, wreathed in coloured lights, two performers speculate about what tomorrow might bring. Exploring utopian and dystopian visions, science fiction scenarios, political nightmares and absurd fantasies, the audience is carried along on a flowing tide of dreams and conjecture.
Sometimes collaborative, sometimes competitive the two performers exaggerate, contradict and invent, as their playful suppositions take them in different directions. Tomorrow's Parties is Forced Entertainment in intimate and comical mode – a playful, poignant and at times delirious look forwards to futures both possible and impossible.
High quality multi-camera performance documentation recorded at Kampnagel, Hamburg, 2011.
Please note our DVDs are encoded for Region 2. Further information can be found in our shop terms and conditions, link in the footer below.
RELATED PRODUCTS
SHOP CATEGORIES