'Club of No Regrets' – Sound
POSTED 01.04.2013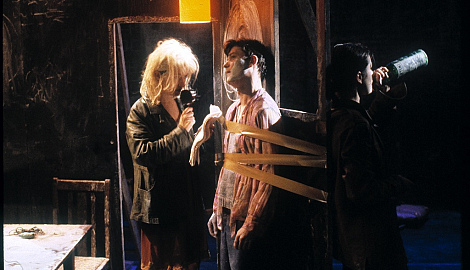 Record Label Forced Nostalgia have released the soundtrack to our 1993 show Club of No Regrets.
In Club of No Regrets, the central figure, Helen X, gives orders to a pair of performers to enact a series of scenes inside a crude and tiny box set, located centre stage. A second pair of performers — who function as brutal and incompetent stagehands or captors — either facilitate or hinder these enactments. Having bound the first two to chairs and threatened them with toy guns, these cruel assistants proceed to bring them the texts and props the performance might need.
John remembers:
My memory, through a fog of talc smoke, is of the music howling and relentless with Terry as Helen X calling to herself and the flailing others to  "keep going, keep going". They did.
I also asked Tim who eloquently suggested:
"music for a city of living fainting buildings"
and an evocative piece of text:
Telegram Two:
DEAR NO ONE I'M SO UNHAPPY I'M GOING TO GET INVOLVED IN BAD PEOPLE TO TRY AND GET MYSELF MURDERED STOP YOU KNOW WHAT IT'S LIKE THESE DAYS – YOU WAKE UP EMBROILED IN A GREAT ADVENTURE AND THE NEXT THING YOU KNOW YOU'RE THROUGH THE FUCKING LOOKING GLASS INTO WEIRD WORLD STOP OH YEAH THINGS ROUND HERE HAVE CERTAINLY CHANGED STOP IN MY DREAM I'M NOT SURE WHO I'M SUPPOSED TO BE STOP YESTERDAY I FOUND A NOTE BY THE BEDSIDE TABLE BUT IT WASN'T IN MY HANDWRITING STOP THE NOTE SAID I'M OLD, OR GETTING OLD STOP THE NOTE SAID I'M HIDING BUT I'M NOT SURE WHO FROM…
From Club of No Regrets: Tim Etchells
More on John Avery and Forced Nostalgia.
NOTEBOOK COLLECTIONS
NOTEBOOK TAGS