Huw Chadbourn, 1963-2017
POSTED 10.07.2017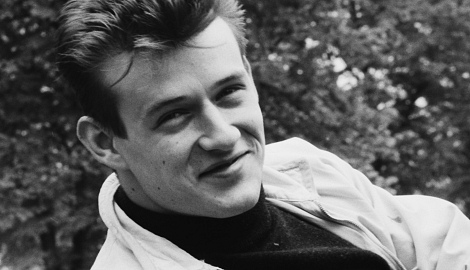 It is with great sadness that we share the news that Huw Chadbourn, one of the founder members of Forced Entertainment, has died on 3rd July, after a long illness.
We initially met Huw while we were students in Exeter in the early 80s, when he came to live there with his sister Deborah, also a key founder member of Forced Entertainment, who would later become the group's manager. Huw became a close part of our circle in Exeter, living with us and getting involved in the performance and music scene as we completed our studies.
When we formed the company, its only asset, beyond the energy and focus of all of us, was a small amount of savings put aside by Huw from a summer job. In the photographs of our first collective trip to Sheffield, it is Huw studying the map and making phone calls. Locked out of the venue for our first performance in the gallery at Yorkshire Arts Space, it was Huw that scaled the wall and clambered over the security gates to let us in.
Huw devised and performed with us in our first four pieces – Jessica in the Room of Lights, The Set Up, Nighthawks and The Day That Serenity Returned to the Ground. He was a sharp, dedicated member of the group, a photogenic and charismatic performing presence, and an important contributor to the company's early projects and the development of the group's aesthetic. Huw's interests in and knowledge about art and performance art as well as his wide-ranging passion for music and film were influential counterpoints to the more singular training the rest of us had had at that point.
In 1987 Huw moved to London as we took time out during work on a show. The break marked the end of his work with us and he went on to many other collaborations and projects – artistic, musical, filmic and otherwise, while remaining our friend and supporter.
Huw stays with us in memory as a principled, versatile, inspiring artist and a dear friend whom we will greatly miss. He leaves a wife and two children to whom we send strength and love.
Huw's funeral will be at GreenAcres Woodland Burial Park, Epping. 11am, Sunday 16th. July. The family have requested no flowers but rather donations to Macmillan Cancer Support or Cancer Research UK.
Photo: Hugo Glendinning
NOTEBOOK COLLECTIONS
NOTEBOOK TAGS