"Thanks. Really. Thanks." – The Ibsen Award Ceremony 2016
POSTED 28.09.2016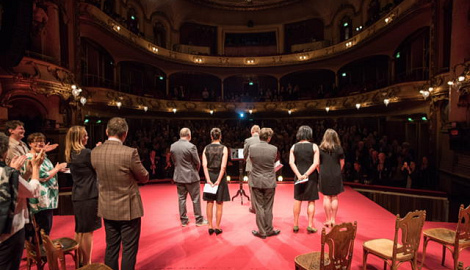 We were truly honoured on the afternoon of the Friday 23rd September 2016 to be presented with the International Ibsen Award 2016, something we've been looking forward to since the announcement in March this year.
Among friends, colleagues and esteemed guests, in the beautiful auditorium of the National Theatre of Oslo, seen above, we heard moving speeches and laudations, and made one of our own.
Below you can read the full text for our acceptance speech. We had to do some last minute edits to keep the length down at the actual event so this one is the complete one!
You can also read Tim's speech about the Prize and about Forced Entertainment, from the Press Conference earlier in the year, here.
Richard:
We want to say thanks for this extraordinary prize. Thanks to the Ibsen Panel, to the Norwegian Government , to the Culture Minister and to the National Theatre of Oslo.
Thanks to people who watched the shows so far until now
across 32 years of time
and eyes watching and ears listening and hearts beating and minds racing.
To those who watched and wondered
Or watched and waited for things to make sense or not exactly make sense or not make sense at all.
Thanks to those who watched and slowly thought themselves into and out of and back into the work.
To people who laughed and laughed.
And thanks to those who laughed and then stopped, not in a bad way or in a bad way.
Thanks to people who never laughed or only kind of smiled or only listened and looked out to the floor.
To those that wept. To those that gasped.
To those that fidgeted, thanks. To those that slept in theatre seats, thanks to those that dreamed or daydreamed.
To those that half-remembered shows. To those that forgot.
To those that never forgot, a sentence or image.
To those that never took their eyes off the stage, thanks.
To crowds, and big crowds, and small crowds, and thanks to just a few people that turned out, here or there, scattered in a theatre at the start of a night.
To that act of gathering,
To the feeling together or feeling alone and to sensing the distance between stage and auditorium, between one person and another, or between one breath and another breath.
To the walk outs, thanks. To the hecklers, thanks. To the door-slammers, yes, thanks.
To those that stayed.
To those that supported and those that said no, thanks,
To those that watched, live or via internet, streaming, tweeting along,
from nearby time zones, or identical time zones or the other side of the world
to those that talked in bars, streets, foyers
And to those that wrote letters, blogs, postcards, messages, thanks
And to those that nodded, thanks and thanks again to those that slipped away
in hurry for a train or whatever
And only took memory with them as story, picture, or question.
Claire:
Thanks to performance makers we watched,
across more than 32 years
Of our own eyes watching, hearts beating, ears listening, brains thinking
Thanks to those other artists, some of them friends, that inspired, challenged, taught and annoyed, distracted, provoked,
To those that set the pace, or put a mark down for something,
Or a question in the form of a show in some big room
Or a show in some basement gallery
Or a show in an old factory (converted)
or a show on the stage of a nightclub (now closed)
or a show on no stage at all, at the end of a room, at the end of a night
where things could change, where what's possible in theatre could change.
Thanks to those we watched – doing time, working with time,
and with text, music and all of the rest.
To the artists we conversed with, argued with, sometimes without speaking, just by making shows,
To those that showed another solution, another way forward, another way out
Another side step for a problem we couldn't even get to.
Thanks to those that made time stop, time speed, time slow, for us
To those that drew lines from the stage to the world outside
Cutting the air with questions
Filling the air with their doubt, or compassion, laughter or rage or just a good gag or just a really good gag.
For the shows that made us doubt our own work and for those that kicked us
to go further, to think harder, to risk more, to be a bit fucking smarter.
Or to go less far. For those that opened something.
Thanks to those with whom we shared spaces, stages, festivals, bars, lobbies and taxis to early morning check-in.
To those who lived the same rhythm of process and performance, show and after show.
To those that shared this space; of working and living as a kind of being watched,
Being present in this strange space of the stage.
Robin:
Thanks for the work that has made the work
in all the ways across 32 years of time
from the start that was tough and fragile and those that were there for it
to the present that is tough and fragile with all of the people and all of its different overloads
Thanks for all long phone calls and attempted phone calls to venues,
or forgotten phone calls to venues, or forgotten venues, over 32 years,
For 32 years of letters, faxes, emails, notes, posters, postcards, leaflets, brochures
For 32 years of meetings, journeys, planning, schedules, contracts, board meetings, other meetings and meetings, thanks
For 32 years of sourcing props and building sets, thanks
For 32 years of van driving, loading, packing, building up and taking down and building up to taking down again and again,
Thanks for 32 years of advice from board members, friends, colleagues, since the beginning,
For long hours, and attention to detail and matters of policy, principle and pure pragmatics; for the daily work of sorting shit out, thanks.
Thanks to those that walked with us a short or long time
and who made the work possible or only almost possible,
who made it impossible and possible in all of the ways.
Who made the work what it is, what it has been, what it can be, thanks.
Thanks to those who were there at the start, when things were tough, fragile and vital and those that are here in the present where it is fragile, vital and tough in all its different overloads.
Cathy:
Thanks to those that improvised long hours with us,
over 32 years, from the start until now,
who lay down in long discussions of unknown stage dimensions on a dirty floor.
Thanks to performers who worked, worked and waited with us for things to get clear,
for a show to be something, for the fog to clear and tangles untangle,
for the talking to stop and a structure to be there.
Thanks for the studio hours and for trying, thinking something, anything – to open a situation that was stuck but now maybe, maybe…
Thanks for the hard work of repetition, to everyone watching the video of last Thursday and then just you know 'trying to make it happen again', transcription, repetition, thanks for the hard work and sweat of that,
Thanks, to those that tried with us, forgot lines with us, hit a groove with us in some improvisation or another that could or couldn't be recaptured, early or late, across 32 years in one room or another, to those that shared the space, one grungy and freezing cold room or another, one stuck rehearsal process or another, for one inspired moment or another, and thanks to those that took space, and in taking it made it possible to continue.
And thanks to those that threw light at it, carefully, skilfully and those who threw sound where needed, beautifully, and had the strength to leave silence where not.
For the photographs onstage and off, for captured moments that often made it more clear what we were doing after all, thanks.
To the partners in making stuff happen. Funders. Venues. Festivals. Programmers. Curators. Co-producers. All. For the context, landscape and conversation. For the bricks and mortar. For the chance. For the chances. For the time with audiences, thanks.
To Sheffield, thanks. And a hundred hundred other cities.
And thanks again to those that returned, over years, again, for those that watched again and then again over 32 years of eyes watching, ears listening, hearts beating and minds racing again, thanks.
Terry:
Thanks to those that wrote about the work in journals, interviews, blogs and books, with words, since the beginning, over 32 years, that helped unpick the work, that helped locate it,
And thanks for the knowledge that the work is as fragile and uncertain now as it was at the start after 32 years and into onwards.
For the understanding that the work still walks a knife-edge
Still lives under still-ticking clock,
Thanks for the continued searching, stuckness, struggle of the process, thanks.
Thanks for the fact of not knowing what to make, for the not knowing what to do or how, for the searching, finding, thanks.
Thanks for the time beyond this moment, in anticipation.
For the single certainty that in the work there is nothing safe, nothing certain,
For the question of the work we'll make in coming years, good, bad, indifferent, inspired.
For the continued fact of unknowing – the empty floor of the studio and a tough conversation.
Thanks for what will come; shows, stages, shifts, discoveries.
For the works yet unmade, for the people we've yet to meet, encounters with audiences,
For the life/blood and politics you can still get out of theatre, a stone,
a stone heart, a broken art, better for being broken.
Tim:
Thanks for the struggle with the times, over 32 years, from Thatcher to Brexit we might say, from Reagan to the prospect of Trump. From one austerity to another, from one isolation to another via globalisation and global warming, from one sour politics to another, from one xenophobia to another, from one crisis to another, from then there to here now. For the wish that things were otherwise, thanks.
Thanks for the long argument about what matters, about what meaning is, about what theatre is or can be, about what politics is, about what the space and potential of performance can be, about what the social can be. Thanks to the certainty that art springs from a complex interaction, half luck, half intuition, not metrics or sentiment capture, not market research.
Thanks for this prize, again, thanks for it, which we take as a nod not just to this group, but as a signal to another theatre, another history, another story buried in the history of theatre; a nod to the collective, to the home-made, to the independent scene, to collaboration, to group risk, to time, space, performance and presence as more than equals to writing, to being and doing, together, hard and fragile and tough – for 32 years from the start to the present and after, onwards.
Thanks for what will come. For the break up of the company, fast or slow, by cut, slide, dissolve, or implosion, for the end to this particular crystalisation of the possible. Take it or leave it. Thanks. For the ticking clock that underwrites performance, still counting down.
For what comes after, thanks, and all that moves with, past and after us, thanks,
to younger artists with different answers to the same questions
and new questions with new answers
and new questions without answers at all, thanks,
for the unfolding conversation and word of mouth that is performance, thanks.
For this moment in this room. In this place. At this time. Thanks.
For this prize. Thanks.
For the watching and the drawing breath, for the marking of connection and the puncture of distance between.
Thanks. Really. Thanks.
Forced Entertainment, at the International Ibsen Award 2016, National Theatre, Oslo, 23rd September.
NOTEBOOK COLLECTIONS
NOTEBOOK TAGS