2019 Recipient: Selina Thompson
Created 2019
Back to participation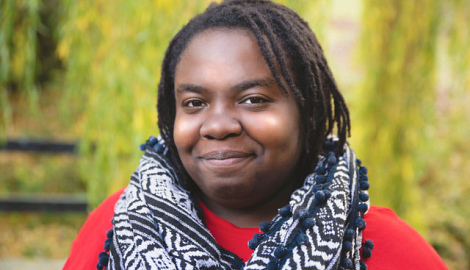 Selina Thompson is an artist and performer based in Birmingham. Her work is playful, participatory and intimate, focused on the politics of identity, and how this defines our bodies, lives and environments. She has made work for pubs, cafes, hairdressers, toilets, and sometimes even galleries and theatres, including Spill Festival of Performance, The National Theatre Studio, The Birmingham REP, East Street Arts and the West Yorkshire Playhouse.
Over the past couple of years she's been developing a body of works called 'Edible Women', exploring the fat body, dieting, control around food, and how much of a mess she can get away with creating with an audience and a taste for excess. This group of works saw her make a theatre show, build a dress out of cake, and spend quite a lot of time listening to people confess their food sins, as well as sharing many of her own.
She is currently in the middle of developing two new projects: the first exploring black identity within the UK and further afield (for this one she built a giant ball of hair) and the second looking at unemployment and job centres (built a job centre for that one). It's not as much fun as working with food, but it is less sticky.
2019 Recipient: Selina Thompson

- PREVIOUS SHOWS