South Bank Associate Company
Created 2018
Back to participation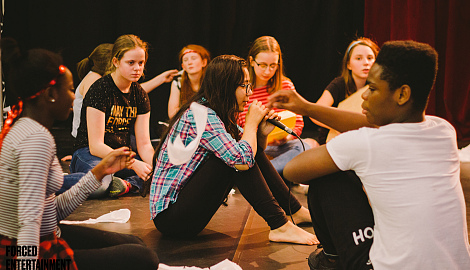 We are pleased to announce that we will be one of the Southbank Centre's new associate companies, working with the multi arts organisation to research, develop and premiere work.
Over our long artistic journey we have been lucky enough to work with many fantastic organisations and venues in London – from early days at Oval House, The Place and the ICA, to Riverside, BAC, Barbican and partnerships with LIFT, as well as, more recently, our presentations of Real Magic with Platform Theatre at Kings Cross. We've also worked with the Southbank Centre on several key occasions, including premiering our 24 hour performance Who Can Sing A Song To Unfrighten Me?, commissioned for the Queen Elizabeth Hall in 2000, and presenting Bloody Mess as part of Jarvis Cocker's Meltdown in 2007.
The new partnership we've established with the Southbank Centre will allow us to bring more profile to our work in London as well as providing an important context for some exciting new projects, including an original production of Artistic Director Tim Etchells' That Night Follows Day performed by a cast of children and young people aged between 8 and 14. As a focal point for London activity we are excited to be part of Southbank Centre's commitment to multi art forms and innovation, and to share the platform with Shobana Jeyasingh Dance who is also joining as associates at this time, alongside ZooNation Youth company.
"As a Sheffield-based company having a London home has always been important to us, and our exciting new partnership with Southbank Centre will help us show the performances we are making to new audiences in the capital, alongside working in other London contexts, as circumstances and opportunities arise. We'll also continue our diverse collaborations and presentation partnerships with organisations around the UK – as well as pursuing, in these depressing Brexit times, to develop new projects with our fantastic network of partners and presenters across Europe and further afield." – Artistic Director Tim Etchells.
South Bank Associate Company

- PREVIOUS SHOWS