Art Breakers
Created 2017
Back to projects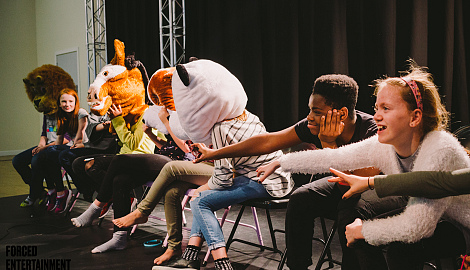 Art Breakers is an out-of-the-ordinary performance group for young people in Sheffield, run in partnership with Theatre Deli Sheffield. Art Breakers is open to all young people aged 12-16. Absolutely all you need to be an Art Breaker is energy, openness, and a taste for new ideas.
Art Breakers is grown from Forced Entertainment's longstanding and acclaimed practice of experimentation and Theatre Deli's focus on pushing the boundaries of traditional theatre. It is a space and place for breaking the rules and inventing new work. We think of Art Breakers as a kind of 'lab' for testing, discovering and making a brilliant mess – to build a wide and varied set of ideas about what art can be and how it can be played with.
We meet on Tuesday evenings from 4:30pm – 6:30pm at Theatre Deli Sheffield.
The autumn 2018 term of Art Breakers is now fully booked, but you can register your interest in joining next term (starting in January 2019) by emailing artbreakers@forcedentertainment.com.
The cost of Art Breakers is £60 per term, which can be paid in two instalments of £30.
There are also a number of free places available, subject to eligibility. Please contact us directly for more information: artbreakers@forcedentertainment.com
We are committed to being a welcoming and inclusive group. If you have questions about Art Breakers, inclusion access requirements or provisions, please don't hesitate to contact us on: artbreakers@forcedentertainment.com
More about our partners:
Theatre Deli is Sheffield's leading artist development hub, changing the way people think about their creative potential, unlocking unusual spaces where artists, audiences and communities can come together to make transformational moments. They challenge the way people engage with city centre spaces, providing artistic interventions that challenge traditional uses of buildings and resources, making them inclusive and accessible spaces of creative activity.
Art Breakers

- PREVIOUS SHOWS