A Decade of Forced Entertainment DVD
Back to shop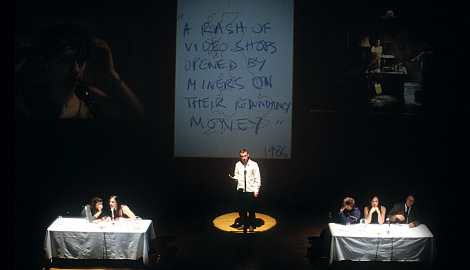 "They drew a map of the country and marked on it the events of the last ten years – the sites of political and industrial conflict, the ecological disasters, the showbiz marriages and celebrity divorces. On the same map, they marked the events of their own lives – the performances they'd given, the towns and cities where they'd stayed, the places where they'd incurred injuries of one kind or another, the places where they'd fallen in or out of love."
A Decade of Forced Entertainment is a map of the period between 1984 and 1994 – a map that is at the same time accurate, haunted, fictitious and false. Part performance and part illustrated lecture, A Decade… presents a tenth-birthday look back at the company.
This recording also contains brief introductions to the company's work by Rose Fenton, Claire Armistead and Stella Hall (reading a statement from Stephen Daldry). These can be found after the performance documentation.
Medium quality single-camera performance documentation recorded at the ICA, London, 1995.
Please note our DVDs are encoded for Region 2. Further information can be found in our shop terms and conditions, link in the footer below.
OFF SALE
This item is currently unavailable. Please check back again soon.