Bloody Mess Empty Stage – Limited Edition Print
Back to shop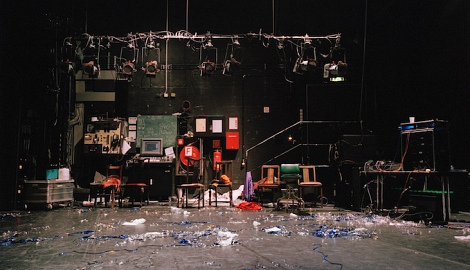 Bloody Mess Empty Stage (Munich), 2003 by Hugo Glendinning
Hugo Glendinning's picture Bloody Mess Empty Stage (Munich) shows the stage following a work in progress presentation of Forced Entertainment's Bloody Mess in 2003 as part of the Spiel Art Festival. Littered with the detritus of the performance – strands of blue and silver tinsel, boiled sweets, plastic cups, wigs and costumes amongst other things – the black floor of the stage becomes a strange map hinting at the events that have taken place in the hours before the picture was taken. At once a classic image of the company's work this image also nods to the audience's act of imaginative authorship that is so close to the heart of Forced Entertainment's approach to performance. This is a limited edition of 30 plus two APs.
Digital c type print
Edition of 30, signed and numbered
Dimensions (unframed): 420 x 594 mm
Price includes VAT and delivery within the UK.
OFF SALE
This item is currently unavailable. Please check back again soon.