Dirty Work DVD
Back to shop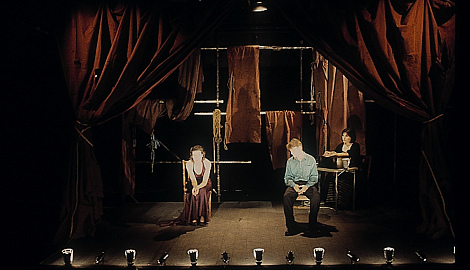 "Act One begins with five great nuclear explosions. A man delivers a letter to the wrong address, causing months of confusion and unhappiness. There are scenes of betrayal, romance and great anguish. There are scenes of death, folly and ambush. The whole of Doncaster is gridlocked with traffic.  The whole of Dortmund is overgrown with foliage. The sky grows dark and silence falls."
Set on a tiny wooden stage with ragged curtains, Dirty Work involves two performers who alternately compete and work together to imagine and describe a performance as big, as varied, as ugly and as impossible as the whole world. Summoned in text alone, accompanied by the sound of a piano on a battered record player, this performance – with an imaginary cast of thousands – explores a world in which real life is so often presented as spectacle.
Medium quality single-camera performance documentation recorded at the Forced Entertainment Studio, Sheffield, January 1999.
Please note our DVDs are encoded for Region 2. Further information can be found in our shop terms and conditions, link in the footer below.
OFF SALE
This item is currently unavailable. Please check back again soon.