Dreams' Winter DVD
Back to shop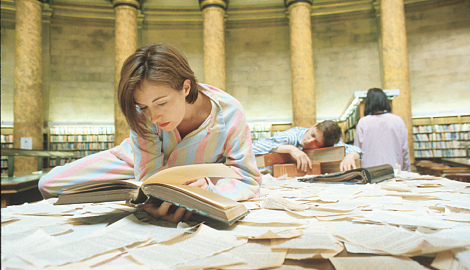 Dreams' Winter was a collaboration between Forced Entertainment, composer John Avery and a diverse group of other performers. The project formed part of two birthday celebrations – marking the 10th year of Forced Entertainment and the 60th year of Manchester Central Library. The performance itself was designed for and inspired by the Library building – a huge, circular, dome-ceilinged space with shelves running to the centre like the spokes of a wheel. Dreams' Winter was the first major site-specific performance by the company, following their December 1993 project Red Room for The Showroom Gallery, London. This single camera tape documents the last on-site rehearsals and was recorded without an audience.
Low quality single-camera rehearsal documentation recorded at Manchester Central Library, Manchester, 1994.
Please note our DVDs are encoded for Region 2. Further information can be found in our shop terms and conditions, link in the footer below.
OFF SALE
This item is currently unavailable. Please check back again soon.