Exquisite Pain DVD
Back to shop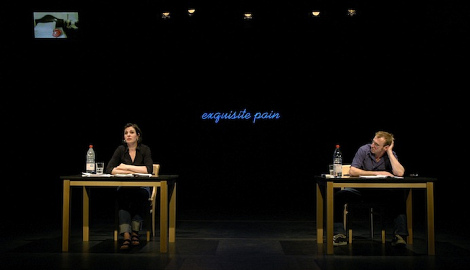 A man and a woman tell stories of ordinary and not-so-ordinary heartbreak, each story accompanied by a single iconic image. A red telephone on a hotel bed. A subway station. The view from a window. A green Mercedes.
The woman repeatedly recounts the story of the end of an affair, remembering it differently each time, while the man tells stories from many different people; snapshots of sorrow in a catalogue of suffering, break-ups, humiliations, deaths, bad dentistry and love letters that never arrive.
In this simple and intimate performance, based on a project by renowned French conceptual artist Sophie Calle, Forced Entertainment explore how language, memory and forgetting move to contain, preserve or erase events; how people come to terms with trauma.  Exquisite Pain is about love, loss, and the stories we tell ourselves when things have gone wrong.
High quality multi-camera performance documentation recorded at Riverside Studios, London, November 2005.
Please note our DVDs are encoded for Region 2. Further information can be found in our shop terms and conditions, link in the footer below.
OFF SALE
This item is currently unavailable. Please check back again soon.