First Night DVD
Back to shop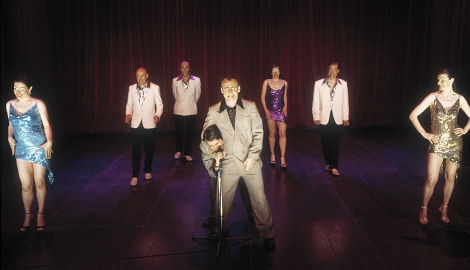 "Ladies and Gentlemen. While you're with us tonight, we'd like to ask you to try to forget about the outside world completely. Try not to think about agonies and bitterness and smiles. And sadness. And the kind of bitterness that comes from making one really big mistake. And the kind of regret that comes from making many many many many small mistakes…"
Forced Entertainment's first theatre work for middle-scale stages is best described as a kind of disastrous vaudeville. In it, eight performers stand before the audience in a line of dazzling smiles, dead eyes, sequined lycra, tottering heels and loud check suits. First Night begins with a grand welcome, but soon disintegrates into dark predictions of the future, psychotic escapology acts, unexpected dances and unhinged showbiz anecdotes.
Medium quality multi-camera performance documentation recorded at The Place, London, December 2001.
Please note our DVDs are encoded for Region 2. Further information can be found in our shop terms and conditions, link in the footer below.
OFF SALE
This item is currently unavailable. Please check back again soon.