Hidden J DVD
Back to shop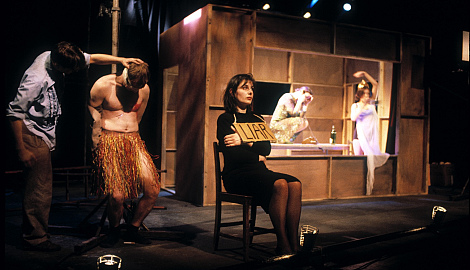 "Long ago and far away there was a country and all the people that lived there were a bunch of fucking cunts…"
Hidden J begins with a lone performer who takes a seat at the front of the stage, donning a sign that proclaims her a LIAR for the duration of the performance.  At the centre of the show is a no-hope drunk English bloke who is in the process of messing up a wedding speech. Around this hapless figure, Forced Entertainment present diverse fragments of apparently unrelated material – scenes of some unnamed East European war zone, a botched hospital operation, the narration of an angel and a devil, and accounts of a massacre in what could possibly be Africa.
High quality multi-camera performance documentation recorded at the ICA, London, December 1994.
Please note our DVDs are encoded for Region 2. Further information can be found in our shop terms and conditions, link in the footer below.
OFF SALE
This item is currently unavailable. Please check back again soon.