Instructions for Forgetting DVD
Back to shop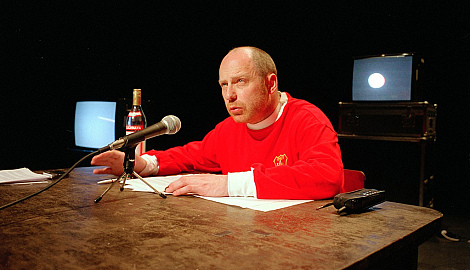 'I ask my friends to send stories and videotapes. For the stories I ask for things that are true. The topic can be anything. I ask for short reports on things that have happened in the world.  For the tapes I say, "Don't make me something special – send what you have."  I say,  "I'm sure that whatever you choose is bound to be right."'
Somewhere between a performance and an idiosyncratic lecture, Instructions for Forgetting interweaves original text by Tim Etchells with 
stories and video material donated by a wide range of friends, artists, family and acquaintances. Exploring the links between text and video image through stories of death, famine, romance, pretended civic emergencies, amateur glamour modelling in Doncaster and more, and always returning to the relationship between the real and the fictional.
Written and performed by Tim Etchells in collaboration with Hugo Glendinning (video) and Richard Lowdon (design).
High quality multi-camera performance documentation recorded at die Theater Künstlerhaus, Vienna, June 2001.
Please note our DVDs are encoded for Region 2. Further information can be found in our shop terms and conditions, link in the footer below.
OFF SALE
This item is currently unavailable. Please check back again soon.