(Let the Water Run its Course) to the Sea that Made the Promise DVD
Back to shop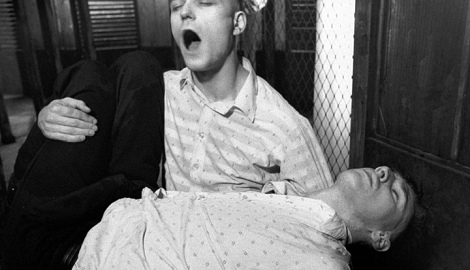 (Let the Water Run its Course) to the Sea that Made the Promise is somewhere between a game, a ritual and an exorcism in which two men and two women enact fragments that might come from their lives, their loves and possible deaths. The space for the performance is a wooden construction resembling a dilapidated factory. A voiceover text frames the piece in a broken poetical slang, describing the life and death of a man and a woman in an ever-changing and dangerous urban space. The live performers use a gibberish language of cries, mumbles and whispers – the shapes and passions of language without the details.
Low quality single-camera performance documentation recorded at the Leadmill, Sheffield, 1991.
Please note our DVDs are encoded for Region 2. Further information can be found in our shop terms and conditions, link in the footer below.
OFF SALE
This item is currently unavailable. Please check back again soon.