Marina & Lee DVD
Back to shop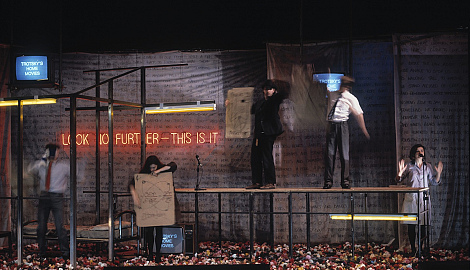 Marina & Lee begins with a physics lecture from a woman in a shop-girl's overalls.  The world she describes is one in which the laws of gravity, magnetic attraction and so on, no longer function.  The work explores the kinds of narratives and ways of being that might be appropriate for such a world.  Throughout the performance, the central figure, Marina (Claire Marshall), describes her journey through a bizarre contradictory landscape that is part desert, part city and part paradise.  As she journeys, the rest of the performance collides with her, often collaging or overlaying several strands of material and imagery. There are kung-fu fights and trashy operas that seem to turn into adverts, featuring cowboys, barking dogs and hysterical women with guns.
Medium quality single-camera performance documentation recorded at the Leadmill, Sheffield, 1991.
Please note our DVDs are encoded for Region 2. Further information can be found in our shop terms and conditions, link in the footer below.
OFF SALE
This item is currently unavailable. Please check back again soon.