Pleasure DVD
Back to shop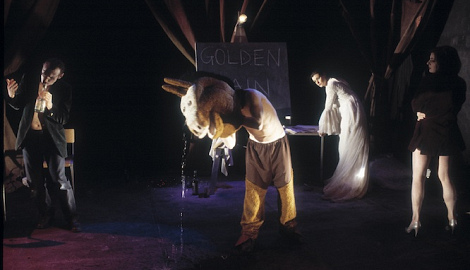 Pleasure takes you down the stairs to a strange night-club at some drunken, half-magical 4am. Hopeless dancers, a pantomime horse, and three girls in wedding dresses all float past on a tide of stage booze. An MC talks – about love, hope, modern life and TV dinners. It feels like underwater. It feels like 16rpm. It feels just like real life. If each of Forced Entertainment's pieces were a room in a house Pleasure would definitely be the basement – a dark, scary place where the stage-hands are snogging and where the acts are more dangerous than they seem.
High quality multi-camera performance documentation recorded at the ICA, London, January 1998.
Please note our DVDs are encoded for Region 2. Further information can be found in our shop terms and conditions, link in the footer below.
OFF SALE
This item is currently unavailable. Please check back again soon.