Quizoola! DVD
Back to shop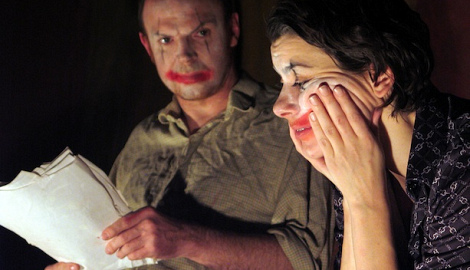 Set inside a circle of bare electric light bulbs, this extraordinary performance is a marathon game of questions and answers. Over a number of hours three performers in the shabby make-up of yesterday's clowns interrogate each other with a text of 2000 questions while the audience are free to arrive, leave and return at any point. From pop-facts through personal secrets, to pub-quiz and twisted philosophical search, Quizoola! is a live negotiation of what is real and what is performed  It is a game which survives from moment to moment, a comical and sometimes brutal interrogation that soon gets out of hand.
Medium quality single-camera performance documentation recorded at Hoxton Hall, London, 1999.
Please note our DVDs are encoded for Region 2. Further information can be found in our shop terms and conditions, link in the footer below.
OFF SALE
This item is currently unavailable. Please check back again soon.