Speak Bitterness DVD
Back to shop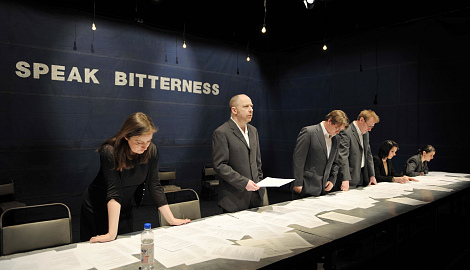 The essence of Speak Bitterness is a line of people making confessions from behind a long table. The litany of wrongdoing to which they confess ranges from the big time of forgery, murder or genocide to nasty little details, such as reading each other's diaries and refusing to take the dogs out for a walk.. An exhaustive catalogue, the text draws on the diverse cultures of confession in, for example, contemporary chat shows, churches and show trials. Dressed in suits, the performers compete to confess the most horrific, amusing or convincing things. Speaking softly, they meet the gaze of the audience (who are partly illuminated), drawing them into direct and intimate contact.
High quality multi-camera performance documentation recorded at the ICA, London, December 1995.
Please note our DVDs are encoded for Region 2. Further information can be found in our shop terms and conditions, link in the footer below.
OFF SALE
This item is currently unavailable. Please check back again soon.