Spectacular DVD
Back to shop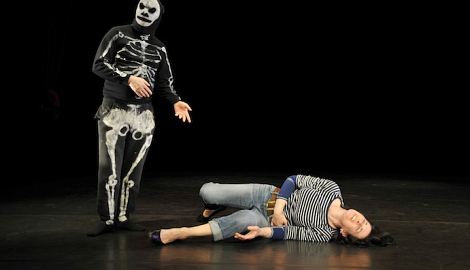 Spectacular, a lone performer takes to the stage, explaining that the show we're watching is somehow different tonight. The atmosphere is different, his entrance was off, the lights are wrong, some scenery is missing, some performers are absent. The tone is all wrong. The audience reaction, our protagonist says, is not quite what he expected. Perhaps the fact he is dressed as a skeleton has something to do with it. When a histrionic actress joins him, determined to perform her 'big death scene' things get stranger still.
High quality multi-camera performance documentation recorded at Nuffield Theatre, Lancaster, October 2008.
Please note our DVDs are encoded for Region 2. Further information can be found in our shop terms and conditions, link in the footer below.
OFF SALE
This item is currently unavailable. Please check back again soon.