The Thrill of it All DVD
Back to shop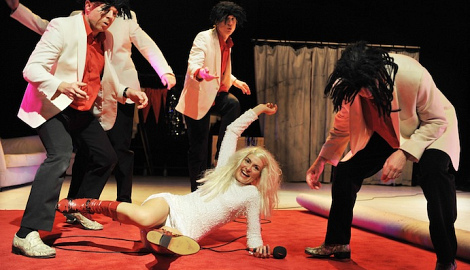 It's bright under the lights, and hot, and frightening. In The Thrill of it All, nine performers in grubby tuxedos and tarnished sequins play out a comical and disconcerting vaudeville to the strains of Japanese lounge music.
Deranged dancing girls swirl, giggle, bicker and stray ever further from the point. Shabby comperes compete for the microphone and the audience's laughter as the show itself slowly starts to unravel. Dances end in fights, jokes end in confusion and sentimental stories end in arguments in this unsettling and extraordinary performance.
High quality multi-camera performance documentation recorded at Nuffield Theatre, Lancaster, 2010.
Please note our DVDs are encoded for Region 2. Further information can be found in our shop terms and conditions, link in the footer below.
OFF SALE
This item is currently unavailable. Please check back again soon.