The Travels DVD
Back to shop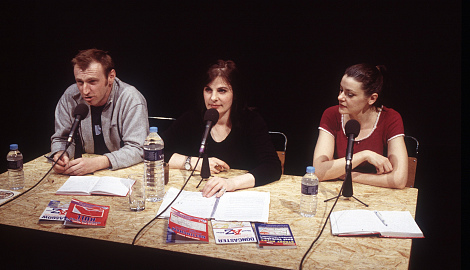 Through the summer of 2002, members of Forced Entertainment undertook a series of journeys, each travelling alone to locations in the UK to complete tasks determined only partially in advance. These tasks – to get their fortune told, to find locations for an imaginary film, to ask tricky questions, to visit streets chosen simply for their names – presented the beginnings of a mapping process to create a landscape of ideas, narratives and bad dreams.
In The Travels, the performers are more or less present as themselves, sharing time and space with the audience, telling, recounting, reading and constructing the performance from evidence gathered elsewhere.
Medium quality single-camera performance documentation recorded at the Forced Entertainment Studio, Sheffield, October 2002.
Please note our DVDs are encoded for Region 2. Further information can be found in our shop terms and conditions, link in the footer below.
OFF SALE
This item is currently unavailable. Please check back again soon.