The World in Pictures DVD
Back to shop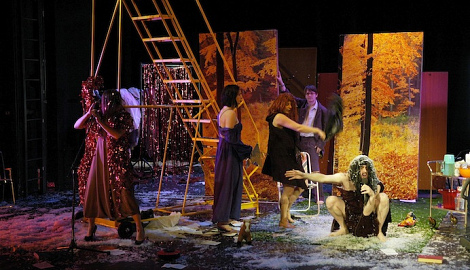 Somewhere, amid the frequent flurry of fireproof theatrical snow, the rag‑bag of dodgy costumes, the swirling music and the improvised scenery, there's a bold attempt to tell the story of mankind. The World in Pictures is a challenging and compelling performance which alternates between chaotic spectacle and fragile intimacy and continues the company's exploration of theatre as a unique space of encounter between performers and audience, touching on memory, mortality, the past, the future and the intricate detail of our contemporary lives.
High quality multi-camera performance documentation recorded at Nuffield Theatre, Lancaster, October 2006.
Please note our DVDs are encoded for Region 2. Further information can be found in our shop terms and conditions, link in the footer below.
OFF SALE
This item is currently unavailable. Please check back again soon.