Forced Entertainment awarded Arts Council England National Portfolio Organisation funding for 2023-26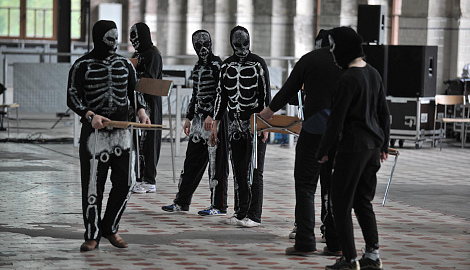 This morning, Forced Entertainment found out that it has been successful in its application to continue as an Arts Council England National Portfolio Organisation. The news confirms key strategic support for the company from Arts Council England (ACE) for the period 2023-26, including 2024 which will mark 40 years of its unique and world-renowned collective art practice.
We're delighted and grateful for ACE's decision, the public support for our work it acknowledges, and the recognition of our artistic and organisational achievements. Renewed funding means that we can continue to make and present ambitious and challenging performance at home and further afield, and to engage audiences and those involved in our growing participation and mentoring programme, in our home city
of Sheffield and beyond.
NPO regular funds have represented an average of 40% of our annual income since 2012 and been a financial cornerstone since 2001, providing a strong base from which we have successfully built. Forced Entertainment continues to be an exemplar 'healthy organisation' in which public funding leverages additional revenue through co-production, performance fees and box office sales. Through this model, we have attracted significant international investment which has provided jobs and helped support the local arts ecology.
We are extremely mindful that other colleagues and friends in the sector have not been awarded the support they need on this occasion. Our thoughts, solidarity as arts workers, and positive energies are with them today, especially with independent artists and makers who have not found support to develop and consolidate their practice. Forced Entertainment is committed to working in partnership with other organisations to share information and resources, and to sustaining best-practice relationships with freelance colleagues. Over a 38-year career Forced Entertainment has been recognised as a unique and significant force in contemporary theatre, producing work of the highest quality and supporting younger artists in developing their visions, their organisations, and dialogues with potential touring and producing partners.
We look forward to sharing our new work, exploring fresh ways of engaging, and encountering audiences and participants in our projects over the next several years in Sheffield, the UK and on the international stage.
Deborah Chadbourn, Chair of Forced Entertainment's board said:
'We're thrilled, and relieved, that our commitment to award-winning artistic excellence and innovative practice, as well as our deep and significant participatory work with young people and other communities, has secured further Arts Council England support. Over the years, Forced Entertainment has engaged hundreds of thousands of people, many of whom have told us that they didn't think theatre was for them. The company occupies a unique place in the arts ecology of the UK and the imaginations of audiences. We have a recognised track record of environmental responsibility, have made demonstrable progress in diversifying the organization, and our exceptionally strong financial management is commended by ACE. Through NPO funding, our ambitions to engage and excite new and existing audiences in England can continue to be met.'
Photo: Hugo Glendinning