From the Dark
Created 2016
Back to projects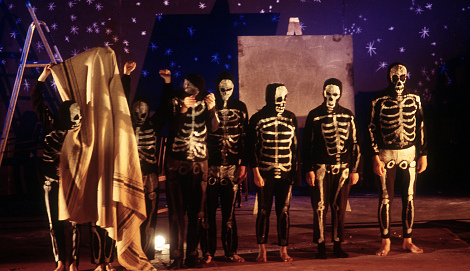 Forced Entertainment take the long route from the dark of midnight to the morning light of 6am.
From The Dark brings the audience to the closing moments of Foreign Affairs Festival 2016, drawing on material from Forced Entertainment's ground-breaking 24 hour performance Who Can Sing A Song to Unfrighten Me? to make a journey from the uncertainty, ambiguity and fearfulness of night thinking to the clarity of morning.
At the centre of this improvised durational work are a series of texts in which 11 performers list their fears, great and small, epic and intimate. Alone centre stage they each sift the tangle of own anxieties, taking us from death in a fire to poverty and social isolation, from being stung by wasps to world social economic collapse and forgetting best-friend's birthdays.
Around these simple solo moments the complex, sprawling and evocative action of the piece unfolds as the 11 performers flood the stage with skeletons, kings and other story-book figures, a forest of trees come to life, and a procession of pantomime animals that are magically disappeared in a recurring comical illusion. Lo-fi and playful but always serious in its deconstructed theatrical routines, From The Dark is Forced Entertainment at its inventive and hallucinatory best.
credits
Conceived and devised by the company
Artistic Director Tim Etchells
Performers Robin Arthur, Mark Etchells, Nada Gambier, Tobias Lange, Reena Kalsi, Jerry Killick, Richard Lowdon, Claire Marshall, Cathy Naden, Terry O'Connor and John Rowley
Lighting Design Nigel Edwards
Design Richard Lowdon
Costume Claire Marshall
Production Management Jim Harrison
From the Dark is a Forced Entertainment production. Co-produced by Foreign Affairs Festival Berlin
Who Can Sing A Song To Unfrighten Me? (1999) was co-commissioned by LIFT London, Royal Festival Hall London and SpielArt Munich