That Night Follows Day
Created 2007
Back to projects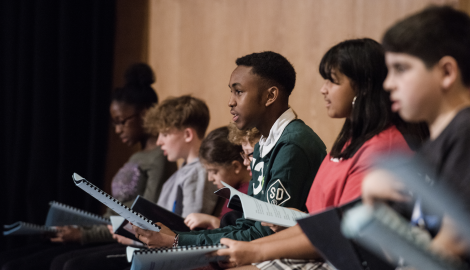 Exploring the way adults' words and actions shape and influence young people…
In December (2018) we will present a new version of Artistic Director Tim Etchells' That Night Follows Day, at the Southbank Centre in London. Through a chorus of children aged between 8 and 15, the comical and poignant piece interrogates the ways in which the adult world shapes and defines that of young people, offering up the full range of advice, facts, white lies and excuses children hear from adults. The performance explores how we are all both made and constrained by language as we try to describe our experiences and imagine our futures.
"Etchells' script is a masterpiece of precise observation and perfectly crafted musicality, moving subtly through love, amusement, anger, frustration and joy" The Herald (Scotland)
For tickets and more information about our upcoming performances (11th – 15th December) click here.
**
That Night Follows Day Rehearsed Readings.
The original version of That Night Follows Day was produced in Dutch with the Flemish company CAMPO and toured the world following its premiere in May 2007, making 180 public performances. This will be the first time Forced Entertainment have presented the full production, and the first time it has been done in the UK. However, since 2011 Forced Entertainment have been creating a limited series of public rehearsed readings of the work in its original English, as a way of bringing this widely acclaimed text-based project to UK partners, participants and audiences.

If you would like further information about the rehearsed reading project please contact Eileen Evans, Executive Director at Forced Entertainment – eileen@forcedentertainment.com
REACTIONS
"...authoritative, passionate, vulnerable and true..."
The Scotsman (on the original production)
"In its simplicity it is the deepest, most profound and purest piece you'll ever encounter on the relationship between adults and children."
Play Nerd
credits
Writer: Tim Etchells
Rehearsed readings produced by Forced Entertainment
That Night Follows Day was originally commissioned and produced by Campo formerly Victoria (Belgium) in 2007.