Under Bright Light
Created 2020
Back to projects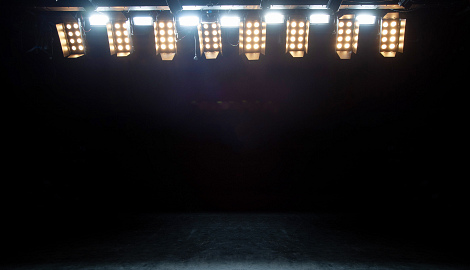 Due the the Corono virus pandemic Under Bright Light, our latest theatre project, has been put on hold until March 2022.
In it six performers are caught in a set of fragmentary actions, interactions, texts and dances, apparently disconnected but nonetheless accumulating, linking and amplifying each other in different ways.
Conjuring images of accident, tension and instability the work as a whole summons a volatile and unforgiving world in which equilibrium is hard to find. The bright light of the title is a stark frame for dispassionate scrutiny, and, at the same time, a warmer invitation which invokes the theatrical gaze. The figures onstage – inventive, resourceful and endlessly under pressure – compete to find solutions to unexpected problems, balancing and manipulating objects, adopting disguises and proclaiming improvised manifestos all the while struggling in a stage world that they cannot fully control.
Under Bright Light promises to be a comical and unsettling successor to the group's acclaimed recent works Real Magic and Out of Order, which have together consolidated the ensemble's reputation for producing compelling, intimate and highly political work from unexpected materials whilst maintaining a commitment to exploring new performance and theatrical forms that both challenge and connect deeply with audiences.
Under Bright Light is led and directed by Artistic Director, Tim Etchells. In the project the group's longstanding core team of Robin Arthur, Richard Lowdon (Designer), Claire Marshall, Cathy Naden, Terry O'Connor are joined once more by Jerry Killick, who first began working with the group back in 1999.
Under Bright Light is a Forced Entertainment production. Co-produced by: PACT Zollverein Essen, HAU Hebbel Am Ufer Berlin, Künstlerhaus Moustonturm Frankfurt.
UPCOMING SHOWS
Under Bright Light

- PREVIOUS SHOWS