2019 Recipient: Selina Thompson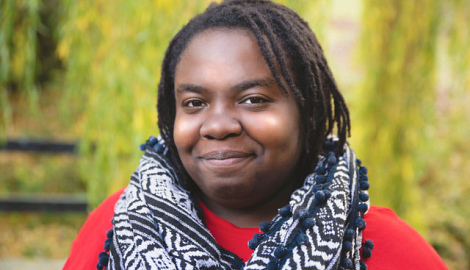 Selina Thompson is an artist and performer and Artistic Director of STLtd, based in Birmingham.
Her work is playful, participatory and intimate, focused on the politics of identity, and how this defines our bodies, lives and environments. She has made work for pubs, cafes, hairdressers, toilets, and sometimes even galleries and theatres, including Spill Festival of Performance, The National Theatre Studio, The Birmingham REP, East Street Arts and the West Yorkshire Playhouse.
Selina has developed a body of work collectively titled 'Edible Women', exploring the fat body, dieting, control around food, and how much of a mess she can get away with creating with an audience and a taste for excess. This group of works saw her make a theatre show, build a dress out of cake, and spend quite a lot of time listening to people confess their food sins, as well as sharing many of her own.
For her acclaimed theatre show Salt, which has toured to four continents and won three awards, Selina retraced a route of the Transatlantic Slave Triangle by Cargo ship. In 2017 STLtd was commissioned as part of 1418NOW to begin a major new work looking at radical futures for democracy in the wake of the Suffragettes. And in 2018 Selina began to write our first mid-scale musical work, bringing together a Hip Hop Icon and the dreams and energy of teenage girls from across the world.
For more detailed information about Selina's work visit her website here.